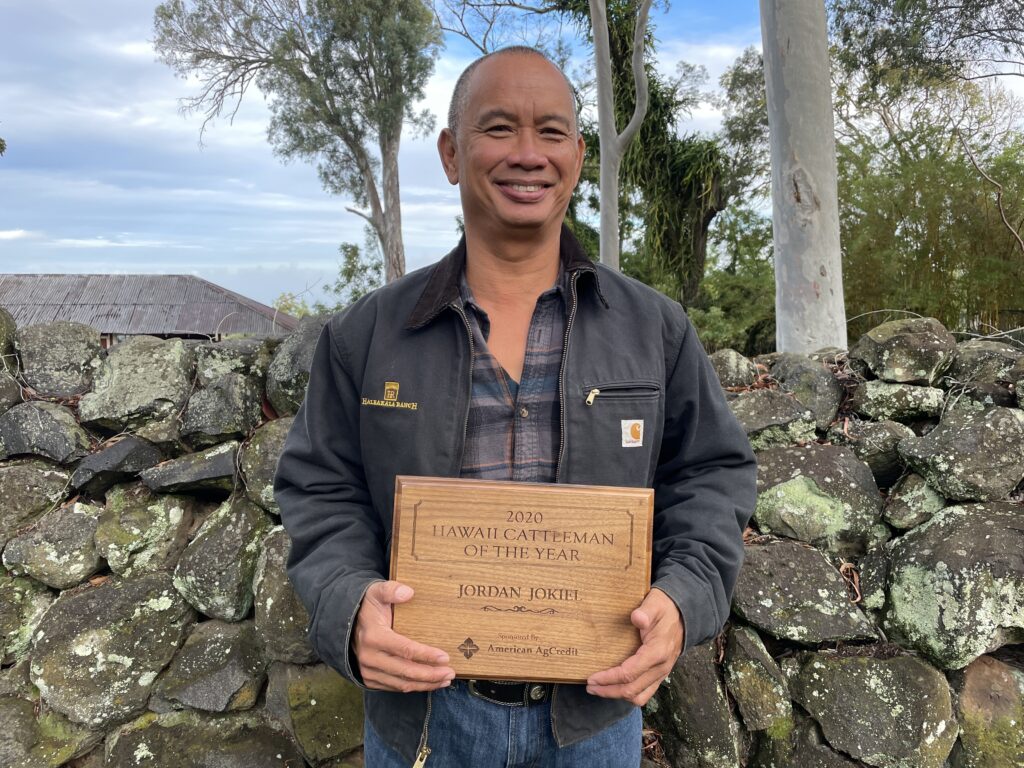 Every year, the Hawaii Cattlemen's Council gives an award to a person who has provided outstanding service to the Hawai'i cattle industry and who represents the paniolo culture of dedication to the land and hard work for the betterment of the community.
This year, HCC has named Jordan Jokiel, land manager and vice president of Haleakala Ranch, as "Cattleman of the Year." Jokiel accepted the prestigious award at this year's virtual HCC conference on Nov. 13, 2020. American AgCredit (formally Farm Credit Services of Hawaii) presents the award annually at the conference, which is now in its 30th year.
"I am honored to accept this award on behalf of Haleakala Ranch, which helps set an example for the industry as responsible stewards of the land," Jokiel says. We continue to work with our partners work to keep cattle ranching, conservation and land stewardship viable and sustainable in the islands."
Since 2015, Jokiel has served as the Ranch's land manager, overseeing conservation programs and partnerships, as well as diversified agriculture programs. His dedication to land conservation and his understanding of how cattle fits into that picture have made him a powerful asset to the industry.
Jokiel has served in leadership positions with The Nature Conservancy of Hawai'i, East Maui Watershed Partnership and Leeward Haleakala Watershed Restoration Partnership, and he currently serves as chair of HCC's Ecosystem Services Subcommittee. Several innovative projects at Haleakala Ranch he's involved in include planting thousands of koa trees and utilizing grazing as a holistic tool to remove non-native understory species from native forest.
Jokiel is well-respected by leaders in conservation, including Haleakala Ranch Senior Vice President Scott Meidell, who also has a career background in landscape-level conservation and land management.
"Jordan has implemented not only innovation but also communication to achieve the Ranch's stewardship goals," Meidell says. "Jordan uses his excellent interpersonal skills to really educate the public about what we're doing here, and about how cattle ranching benefits the islands in so many ways—from preserving open space to managing wildfire risk. HCC's designation of Jordan as 'Cattleman of the Year' is well-deserved, and we couldn't be more proud to have him on our team here at Haleakala Ranch."