Ukulele Restoration Project: Animals Pave the Way for Native Forests of the Future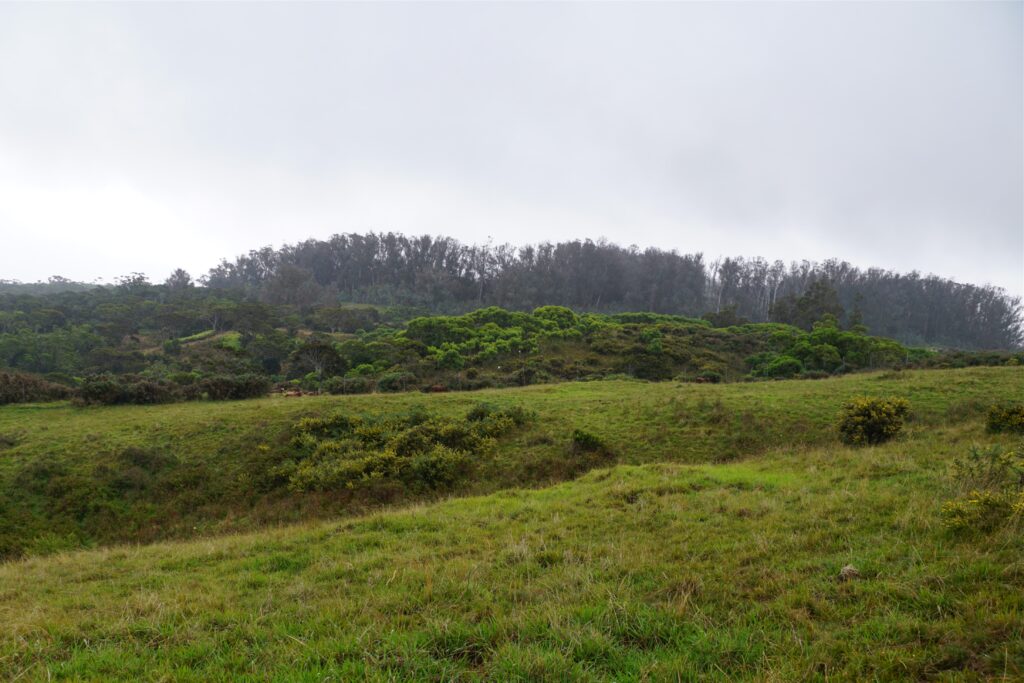 February 2020
Ten years from now, tall koa trees will spread their sturdy branches over one hundred acres of former pastureland on the slopes of Haleakalā, creating the native overstory of a vital watershed.
Today—as the first phase of the 'Ukulele Native Forest and Watershed Protection project gets underway—the koa are skinny seedlings, their fringed leaflets holding the promise of good things to come. The little trees were planted here in the soil of Haleakala Ranch through the dedicated vision of Ranch family and team members, through the hands-on labor of community volunteers, and through the steady, managed grazing of more than 200 cattle, sheep and goats.
"The animals have played a key role in the management of this restoration project," says Jordan Jokiel, vice president and ranch land manager."They have grazed down much of the competitive understory non-native plants so that we can more easily plant the native koa trees."
This approach of integrating livestock and conservation as complimentary land stewardship practices may seem like a novel idea, but it ties in naturally with the founding values of Haleakala Ranch:
– honoring heritage and culture through preserving native forests and planting native trees
– perpetuating the past and preparing for the future by creating watersheds
– caring for the environment by eliminating invasive weeds with less chemicals and heavy machinery
– using animals, which have always been central to HR's operations, to work the land
– using innovation to find pono solutions to problems
"This program is allowing the ranch to use what it has—cattle, sheep and goats—to take care of the invasive species," says Haleakala Ranch family member Richard Cameron. "We are trying to bring the native forest back, to bring the trees, the birds, the wildlife—it's absolutely the right thing to do."
Now that the animals have done their work and the first round of koa trees has been planted in this small area, the area will be allowed to rest for up to 10 years. Then the animals will be brought back in to graze one more time, in preparation for the planting of the understory.
"We're doing this work on a small scale now as a trial, but hopefully what we learn here can be applied to large landscapes with thousands of acres," Jokiel says. "There's a lot of value to interweaving and combining livestock production and conservation work."
Water is key to any operation, says Greg Friel, vice president and livestock manager. "We are dependent on a healthy, resilient, diverse native forest for clean air and for our watershed. The key to rainfall and water is to have that forest. Ensuring our water supply for the future is something that needs to be done, not just for any ranch to operate, but for civilization to survive anywhere."
–Watch the ʻUkulele Restoration Project' videos: LINK to playlist