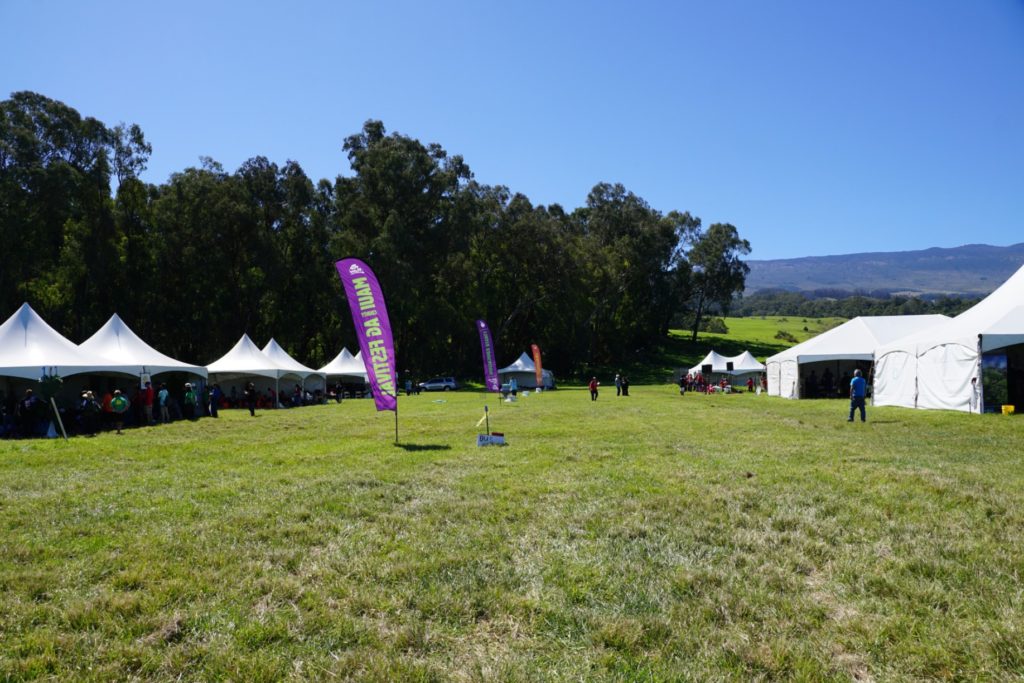 On a beautiful sunny day in April, 685 second-graders tumble out of yellow school buses and stream across the pasture at Haleakala Ranch. For many of them, it's their first time visiting a working cattle ranch. For all of them, it's a chance to see, to know and to appreciate that agriculture is real on Maui.
This annual event is the much-anticipated field trip or part two of Maui County Farm Bureau's "Agriculture in the Classroom" program, for which Haleakala Ranch has served as host venue since 2015. Together with other ag educators including MCFB, Maui Electric, Maui Soil and Water Conservation District, Bayer-Crop Science, and College of Tropical Agriculture and Human Resources—Haleakala Ranch is committed to community outreach that shares the vital role that agriculture plays in our community.
This year, more than 1,265 second-graders, teachers and chaperones from Maui's public and private schools participated in the field trip over two days at Haleakala Ranch. The students took part in five education stations that centered on the lifecycle of plants, soil health and seeds, as well as nutrition and where our food comes from.
Haleakala Ranch presented two activity stations: livestock and conservation.
Livestock
For the livestock station, Greg Friel, Vice President/Livestock Manager, brought out ranch animals and sheepdogs. To the students' delight, he demonstrated how he trains the dogs to help him move sheep and/or goats in a pen. The keiki learned that these dogs have an important job to do, especially on a larger scale when they help the ranchers move cattle from one site to another.
"I think it's very important that Haleakala Ranch as well as all the other agricultural partners let these students get the opportunity to find out what's happening around them in Maui County as far as agriculture," Friel says.


Watch the Livestock video: LINK

Conservation
The conservation station was run by Jordan Jokiel, VP/Land Manager, along with conservation partners, Haleakala Ranch staff and family. It didn't take long for the enthusiastic keiki to get their hands dirty, mixing koa seeds with clay and soil and rolling them into balls.
Jokiel estimates the second-graders made between 4,000 and 5,000 balls, with about 20 seeds in each. All the seed balls will be dropped by helicopter or distributed by hand on the southern slope of Haleakala in an effort to bring back native forest in that area.
"The seeds that we're putting into these seed balls are going to grow hopefully into the future forests that will protect our watershed," Jokiel says. "…I think the common bond that we have is really the love of the land: protecting it and also enjoying it is really special."
Watch the Conservation video: LINK
Participating conservation partners include East Maui Watershed Partnership, West Maui Mountains Watershed Partnership, Leeward Haleakala Watershed Restoration Partnership, Maui Invasive Species Committee, Haleakalā National Park, Division of Forestry and Wildlife, DLNR, and The Nature Conservancy.


Background
Ag in the Classroom and its Field Trip were established by Haleakala Ranch and agricultural partners in 2007 to raise awareness of Maui's ag industry and to connect students, teachers and their families with farmers, ranchers and ag educators. The AIC lesson plan titled "Where Would We Be Without Seeds" was designed to plant a seed in children's minds about the importance of ag as an integral part of life on Maui.
The average age of a farmer in Hawai'i is 60 years old, making it essential that more young people become involved with the ag industry. Down the road, the hope is that keiki will think of a career in agriculture as a positive choice, with possibilities ranging from in-the-field management and engineering to environmental and food sciences, biochemistry, agricultural economy, technology, research and public policy.
AIC is only one piece of Haleakala Ranch's ongoing community outreach and stewardship of the land. As one of the largest landowners on Maui, Haleakala Ranch has played a key role in major conservation-oriented land use initiatives for decades, including the creation of Haleakalā National Park, and the establishment of Waikamoi Preserve and the East Maui Watershed Partnership. The Ranch now provides a leadership role in four different watershed partnerships on Maui.
Last year, Haleakala Ranch was recognized for its work as a 2018 regional winner of the Environmental Stewardship Award from the National Cattlemen's Beef Association.
Raising quality beef cattle is the core of Haleakala Ranch operations. In 2002, the Ranch and five other local ranches formed Maui Cattle Company to keep cattle on-island from birth to finishing, deliver a premium local product, and promote a sustainable ranching industry in the islands. Maui Cattle Company beef is 100% "Born & Grazed in Hawai'i" and can be found at many of the island's finest restaurants and markets.
"Those animals spend their entire life on pasture, and they eat nothing but grasses, forbs and legumes that are grown in the pasture," Friel says. "There's no antibiotics given to these animals, no hormones given to these animals, so the product is 100% natural."
For keiki who have never seen a cow up close, the AIC Field Trip is an eye-opening and engaging way to see what's going on with Maui's ag industry. Chances are, the next time those second-graders bite into a juicy cheeseburger, they'll think about those cows they saw and wonder if their burger just might've had its beginnings on the green pastures of Haleakala Ranch.