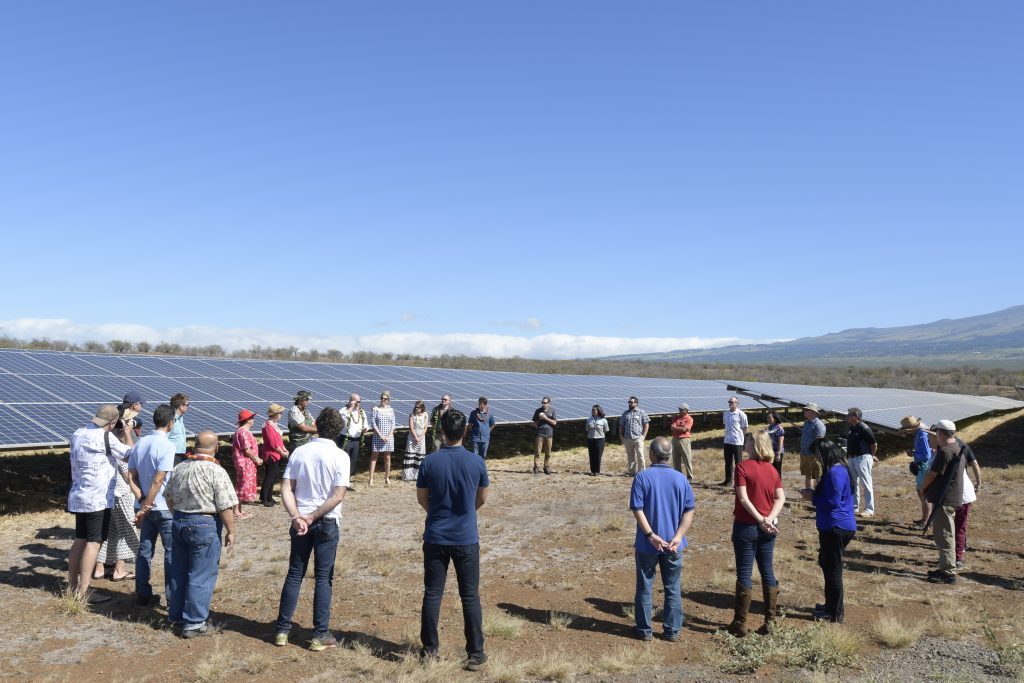 Photo Credit: Kamehameha Schools and Kenyon Energy)
Maui's first solar farms were blessed on Nov. 28, 2018, in two ceremonies in South and West Maui. The power of the sun could be felt as officials from Maui Electric, Kenyon Energy, Bay4 Energy, Haleakala Ranch and Kamehameha Schools, along with community members, gathered on a bright afternoon to dedicate the island's first large-scale solar energy projects.
Kahu Wilmont Kamaunu Kahaiali'i officiated, describing how "we are taking what the sun can give us so that we can share it with the benefit of the people."
Located on 11.3 acres of Haleakala Ranch pasture land above Kihei, the south Maui solar farm will provide a source of clean, renewable energy to help power the island.
In his remarks at the ceremony, Scott Meidell, Haleakala Ranch senior vice president/real estate and land management, called the project "a very significant achievement for our island community."
"What is before us today represents a new and sustainable approach to stewardship and resource management for this generation," Meidell said. He described how Ranch founder Sam Baldwin could not have conceived of "this marvelous contraption before us today," yet he would surely have recognized it as "an opportunity to expand our ideas about new ways to responsibly utilize the land under our care and provide a benefit to the community."
For complete remarks by Scott Meidell, please click here.